STARSPIRIT PRESS
StarSpirit Press is a division of StarSpirit International, Inc. StarSpirit Press publishes not only the Biakoye Newsletter on a quarterly basis, but also puts out quality book publications for a general audience. Our publications include the following:
The Biakoye Newsletter
You may subscribe to the Biakoye Newsletter, or view our recent back issues from among the following:
September 2004, December 2004, March 2005, June 2005, September 2005, December 2005, March 2006, June 2006, September 2006
December 2006 September 2007 December 2007 2008 2009 2010-11
BOOKS
Our books include the following:
GET THE NEW 2011 Book!
A New Book Release! CELESTIAL PROPHECIES Ancient Wisdom from Nana Asi Ketewa Channeled from the Third Quarter of the Heavens by Nana Akomfohene Korantema Ayeboafo
This book is a response to the yearning for answers to questions by a humanity facing severe changes in their environments. Nana Asi Ketewa delivers prophecies that provide answers, while explaining the major alignment occurring, as we usher in the era of abundance—a golden age! This book prepares humanity for this new era, as a guidebook none should be without, so as to face the changes without fear. The ancient wisdom shared assists in raising one's frequency, evolving into a higher intelligence, and expanding consciousness. Read this book for guidance in attaining "oneness" with all life, while returning to a natural way of living aligned with the Earth and cosmos; Proceeds benefit the African Water Project in Larteh-Kubease, Ghana.
ISBN 0-9769975-3-3 $20.00
A NEW 2008 BOOK RELEASE
African Shamans and Ancient Shrines: The Remarkable Life Journey of Nana Korantema Ayeboafo (2008). by Barbara C. Wallace, Ph.D. ($45.00 plus $5.00 shipping and handling. Total = $50.00)
This book needs to be an Oprah Book Club Selection! Read it and find out why!!! Initial reviews include reports of readers being left in tears at many points in this engaging and moving book. Others report just not being able to put the book down. Get your copy today and send a copy to a friend.
A NEW 2008 BOOK RELEASE
50 Years and Counting: The Legendary Art and Genius of Arthur Hall--A 2008 Celebration of the Infusion of African Dance, Drumming, Culture and Art into the Fabric of American Life (2008). By Barbara C. Wallace, Ph.D. ($20 plus $4.00 shipping and handling. Total = $24.00)
This book is veritable African American history that will inspire all readers.
ANTICIPATED 2009 BOOK RELEASE
History of the Guan-Speaking Peoples of Ghana: The Undisputed Aborigines of Ghana. By Kwame Ampene
You will want to learn from this noted Ghanaian scholar the truth about the Guan of Ghana and their migration patterns. Continue to check our website for information about this 2009 book release.
ACQUIRE THE BOOKS THAT ESTABLISHED STARSPIRT PRESS AS AN INTERNATIONAL TREASURE!
Tigare Speaks: Lessons for Living in Harmony. (2005) by Nana Korantema Ayeboafo, ($19.95. Plus $3.00 shipping and handling. Total=$22.95)
This book has been hailed by Iyanla Vazant, as well as Dr. Patricia Newton for providing practical information that promises to enrich all who read it.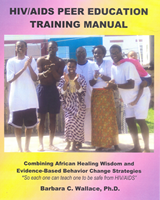 HIV/AIDS Peer Education Training Manual: Combining African Healing Wisdom and Evidence-Based Strategies for Behavior Change. (2006)
by Barbara C. Wallace, Ph.D.($29.95. Plus $4.00 shipping and handling. Total = $33.95)
This book has been used in Sierra Leone, Africa, Ghana, Africa, and the United States to train peer educators. It was praised by the Sierra Leone Ministry of Health and Sanitation, and by community leaders in Ghana.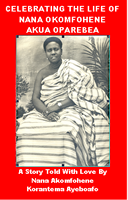 Celebrating the Life of Nana Okomfohene Akua Oparebea: A story told with love (2006)
by Nana Akomfohene Korantema Ayeboafo ($39.95 Plus add $4.00 shipping and handling. Total =$43.95)
This book has earned international acclaim for documenting important Ghanaian history, especially on the historic role and continuing importance of indigenous healers in society.
Check our website for forthcoming books, CDs, DVDs, books on tape, newsletters, posters, t-shirts, calendars, and journals.
A NEW JOURNAL: GROWING THE ACADEMIC/RESEARCH ARM OF STARSPIRIT PRESS
The Journal of Equity in Health, October 2008, Volume 1, No.1. Get your copy today for $30.00 plus add $4.00 shipping and handling. Total = $34.00)
Access some of the latest research and scholarship on how to bring about equity in health for all from this exciting new journal.
GET THE NEW 2011 CD!
GET THE MUSIC FOR THE HOT NEW AFRICAN LINE DANCE – SALAAM ALEKUM!!
1- Salaam Alekum - Collective Dance for Peace 10:36 Featuring Nana Korantema Ayeboafo, Female Master Drummer, as a solo performer recording music from the Arthur Hall repertoire on 6 tracks [Djembe drums on 2 tracks, the Gyamadudu drum on 1 track, the Wasawasa (shakers) on 1 track, the Adawuru (bells) on 2 tracks], and singing on 4 tracks—while accompanied on another track by the singers Kweku Menu Opare and Kwame Asuo Opare. On a final track, Nana calls out the dance steps for The Collective Dance for Peace, an African line dance serving as a Tribute to the Legacy of Arthur Hall. This song was accompanied by a signature dance performed by the Arthur Hall Afro American Dance Ensemble under the direction of Arthur Hall. 2- Remembering Arthur Hall 6:39 Featuring the original poetry of Melvin Purnell in an original musical composition by Nana Korantema Ayeboafo performed live in New York City with the African Ensemble. Spoken Word: Aba Oyedi. Musicians/Sekere Players: Nana Korantema Ayeboafo, Darryl Kwasi Burgee, Steven Jackson, Rita Johnson, Joseph Bryant Bey. Singers: Nana Kofi Asante, Kwame Asuo Opare, Kweku Menu Opare, Nana Kwame Opare. 3- Salaam Alekum – Instrumental 10:35 This is the instrumental version of the first track, without the calling out of the dance steps.
Buy this new CD $10.00
GET THE NEW 2008 CD!
ALIGNMENT. Nana Korantema Ayeboafo and the African Ensemble. New World Music. Live in New York City ($10.00 Plus $4.00 shipping and handling. Total = $14.00)
This music is increasing demand from the 2008 Pew Fellowship in the Arts awardee in the Folk and Traditional Art category--Nana Korantema Ayeboafo. Listen to this music and find out why demand is increasing for this brilliantly arranged music.
GET THE ACCLAIMED 2007 CD!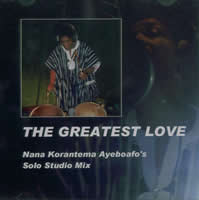 THE GREATEST LOVE. Nana Korantema Ayeboafo's Solo Studio Mix ($10.00 Pluse $4.00 shipping and handling. Total = $14.00)
Have you heard a woman play as many as 8 different drums and percussion instruments and sing on 3 tracks, and do so in an award winning manner? Hear what the Pew Fellowship in the Arts Committee heard and undertand why Nana Korantema Ayeboafo was chosen to win the most prestigious award for an artist living in the Philadelphia County region. Spread the word about this dynamic music so the awards will keep coming!
PLEASE CONTINUE TO CHECK OUR WEBSITE FOR FORTHCOMING BOOKS, CDs, DVDs, books on tape, newsletters, posters, t-shirts, calendars, and jounals. as we expand our selections in the coming year!